The Table d'Hotes at Les Terrasses did not take long to be considered friendly, warm and high quality. This dinner will complete perfectly your stay that will become even more enjoyable.
The Table d'Hotes is served only for dinner and two to three nights a week at maximum, and has to be booked at least two days in advance.
The kitchen is not accessible to our guests and it is not allowed to eat in the rooms nor to bring food and drinks from outside.
A wine and champagne menu is available at reasonable prices.
Soft drinks (plain and soda water, homemade sodas) are offered to our guests.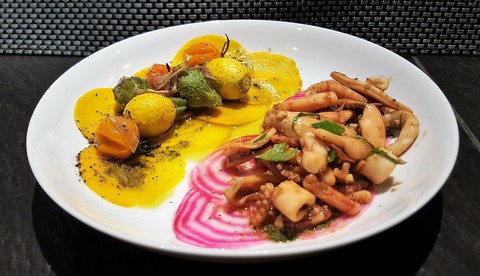 After the Aperitif served with a mixed of regional products, pretext to taste the good wines discovered by Frederic or some house cocktails, Isabelle and Frederic offer a full menu taken all together and made with the best local seasonal products to get a tasty and inventive food full of flavors and served with the best wines from Ventoux and Luberon.
Price: 29 € (per Person) all inclusive -
aperitif (offered), starter, main course, dessert, wine not included.
Breakfast
In the morning, the Gourmet Breakfast is served between the two gardens (according the weather) and offers a choice of five different fruit juices, three kinds of cereals, farm cheese, ham, sliced cheese, fresh fruit salad, three different kinds of breads, choice of three different pasties, home made cake, honey, choice of home made jams and of course a choice of hot beverages.
The breakfast is served in common on our large table and is included in the price of the room.